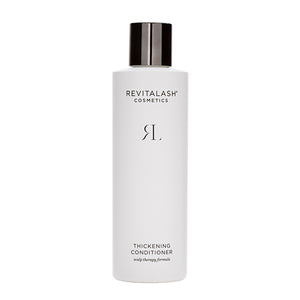 A unique thickening and scalp therapy formula features specialized ingredients to optimize scalp health by hydrating and nourishing hair while protecting from environmental stressors.
Dermatologist Reviewed  •  Ophthalmologist Reviewed  •  Clinically Tested  •  Not Tested on Animals  •  Color Safe  •  Does not contain Sulfate Detergents, Parabens, Phthalates
WHAT IT DOES:
This phyto-infused formula rich in therapeutic ingredients supports optimum scalp health, nourishes the hair cuticle and works to improve hair shaft thickness. Hair is hydrated, replenished and transforms to feel fuller, look thicker and perform better. 
INGREDIENT HIGHLIGHTS:
▪ Biotin & Keratin: Help support hair volume and strength, resulting in thicker, fuller-bodied hair
▪ Panthenol: Helps hydrate hair and improve shine
▪ Flax Protein: Nourishes hair and protects against hair breakage
▪ Loquat Leaf: Helps with thinning hair
▪ Green Tea & Ginseng: Protect hair and scalp with powerful antioxidants
HOW TO APPLY:
Step 1: Following the use of Thickening Shampoo, apply Thickening Conditioner to wet hair.
Step 2: Focusing on the scalp, massage in a circular motion and work through hair from root to tips. Allow to sit 1-2 minutes. Rinse thoroughly.