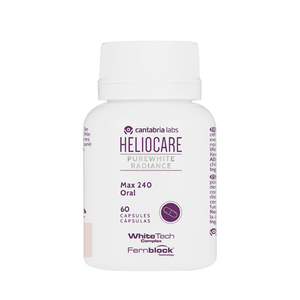 Bolstered with additional dose of Fernblock®, Heliocare Purewhite Radiance Max 240 gives additional boost to achieve a more radiant and fairer skin, and enhanced UV protection to prevent hyperpigmentation.
FERNBLOCK®
Recent study conducted in National Skin Centre, Singapore, 62% improvement in melasma was observed when compared to baseline in just 12 weeks.
UV PROTECTION • ANTI-OXIDANT
Fernblock® has excellent antioxidant property that is able to reduce free radicals by up to 50%, preventing the formation of hyperpigmentation caused by UV rays. It protects the entire skin surface, increasing the skin's resistance against sunburn and redness by up to 300%. The protection from Fernblock® also slows down skin aging by up to 55% through the inhibition of collagen depletion caused by UVA.
DNA REPAIR AND PROTECTION
Other than protecting your skin from harmful UV rays, Fernblock® repairs existing damage in the cellular level, preventing cell mutation and premature skin aging.
INHIBITS PRODUCTION OF DARK PIGMENTS (MELANIN)
Furthermore, Purewhite Radiance Max 240 is enhanced with the exclusive blend of White Tech Complex where it controls and blocks the main enzyme that is responsible for melanin production. The blend in White Tech Complex consists of Pomegranate extract, L-Cystine, vitamin C and B3, all clinically proven to promote skin fairness and radiance
NATURAL SYNTHESIS OF GLUTATHIONE (ANTI-OXIDANT)
L-Cystine is a precursor of Glutathione, a potent antioxidant which plays an important role in the regulation of melanin production in our body. It also quenches free radicals generated by the sun and environmental aggressors to prevent skin darkening.
Vegetable based capsules.
Size: 60 capsules
DIRECTIONS
Take 2 capsules daily. 1 in the morning and 1 in the evening.
INGREDIENTS
Polypodium leucotomos (extract), L-Cystine, Punica granatum (Pomegranate extract), Vitamin C (L-Ascorbic Acid), Niacine (Nicotinamide), Anti-caking agent (Magnesium Stearate). Capsule: Glazing agent (Hydroxypropyl Methylcellulose), Colorants (E-171, E-129, E-133).