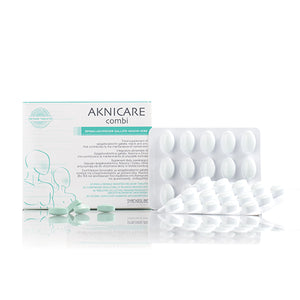 Complementing your anti-acne regimen, Aknicare Combi targets the acne causing factors from inside out. The synergistic combination of Epigallocatechin gallate and Zinc gluconate targets the pathogenesis of acne and counteracts the effect of IGF-1 (Insuline-Similar Growth Factor). Bolstered with niacin, to improve overall skin health and skin barrier function to prevent bacterial activity on the skin.
Findings have shown that excessive IGF-1, a protein hormone produced by the liver, can multiply cells that can cause hyperkeratinisation (excessive dead skin cells) and excess sebum production. These are two key acne causing factors.
Size: 30 tablets
DIRECTIONS
1 tablet in the morning after food.
INGREDIENT
Epigallocatechin gallate (75mg), Zinc gluconate (6.25mg) and niacin (18mg) per tablet.
Bulking agent: microcrystalline cellulose (cellulose gel); Anti-caking agents: Fatty acids, Magnesium salts of fatty acids, silicon dioxide, cross-linked sodium carboxymethyl cellulose, talc; Maltodextrin; Epigallocatechin gallate from Green Tea (Camellia sinensis (L.) Kuntze, folium) dry extract; Zinc gluconate; Coating agents: hydroxypropylmethyl cellulose, ethyl cellulose, carnauba wax; Niacin (Vitamin PP); Colouring agents: titanium dioxide, iron oxide, E133.